Waterfront properties are land and houses located by a body of water, usually a lake, lagoon or ocean (beach). These properties provide a clear, alluring view of the water, giving residents and visitors unrestricted access to waterways. The serenity provides an environment to unwind, think clearly and, relax. And in Nigeria, one of the best places to find waterfront properties is Lagos State.
Why own or invest in Waterfront properties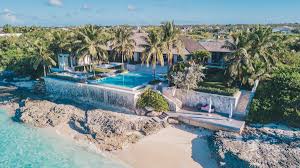 They are valuable assets
Waterfront properties are greatly beneficial assets to their owners. Whether you're looking for a residential home, a vacation home, or a relaxation centre, a waterfront property can suit every need.
They are uncommon
A plus feature of waterfront properties is that compared to other kinds of properties, they are rare and largely uncommon. The fact that waterfront properties cannot be found everywhere makes them special and exclusive. Rare and exclusive properties are more highly placed and valued. The economic benefits of waterfront properties due to this single characteristic are tremendous. 
Highly profitable rental income

Due to high demand and proximity to beaches and resorts, the rental income placed on these waterfront properties in Lagos is higher than non-waterfront properties.
A serene environment surrounded by nature

Another great reason to invest in waterfront properties for sale in Lagos is the serene environment that waterfront properties provide. 
Waterfront properties have very close proximity to nature and there are several benefits of being close to nature. The natural, cool and breezy environment and water view puts residents and visitors in a very relaxing mood and alleviate stress, anger, and frustration. Being in nature can be very healing and is great for recovery and reenergizing. Waterfront properties are generally great for health, wellness, and fitness.
Attractive Vacation Hubs

 An added advantage of owning a waterfront property is that they are a great spot for a vacation. Whether one is looking to take a vacation alone or with loved ones, vacationing in a waterfront home is exquisite and leaves one refreshed and ready to take on the world. 
Before buying that beachfront property, consider picking the location that best suits your purpose, a decent and comfortable payment plan, the credibility of the developers, and the property titles.
To realize all these qualities, it is important to contact a trusted real estate agency with waterfront lands for sale in Lagos. At Bestate, we do our due diligence on properties listed on our site. Our consultants are ready to help you choose the property with the best qualities that would meet your needs. 
Waterfront Properties For Sale In Lagos
Ilashe Private Beach Resort 
Ilashe Private Beach Resort is situated on Snake Island off the Lagos coast and along Badagry Creek. Along the coasts of Ilashe lie many beautifully arranged coconut trees, crystal white sand ushering you from the lagoon front down to the Atlantic Ocean.   
Surrounded by nature at its very best, the beach is the perfect location for weekend getaways. Exclusive and private, it is certainly a part of Lagos specially made for the affluent and sophisticated class.
Ilashe is home to numerous resorts, clubs, hotels and private residences owned by wealthy Nigerians such as Femi Otedola. 
 Neighbourhood
Inegbe Resort, La Manga Resort, Pop Beach Club
Plot size: 500 Square Metres (Minimum)
Price:  25 Million Naira (50 thousand Naira per Square Metre) 


Lekki No. 7 Atlantic View Garden
Invest in properties in this great location and watch your return on investment grow rapidly. In Lekki No. 7 View Garden, you are guaranteed a serene environment, a perfect blend of nature, ambience, and a hundred per cent dry upland. Lekki No. 7 View Garden is located along Okun-Ajah road and behind the Novare Lekki Mall, Sangotedo, Lagos. 
  
NEIGHBOURHOOD
Novare Mall, Shoprite, Lagos Business School, Sky Mall Sangotedo, Caleb British International School, Lufasi Nature Park
Title: Government Approved Excision 

 Price:
500 Square Metres – 11.5 Million Naira
300 Square Metres- 6.9 Million Naira
Payment Plan: Up to 12 months
 This exquisite water view estate is located in Mosere Kogo Villa behind Eko- Akete, Lekki peninsula, Lagos. It is the meeting point for work and play and for the creative and design community, this is because it combines business retail, residential and tourist attractions.

The appreciation rate is expected to expand by 200% in the next eighteen months. 
Title: Governor's Consent 
Plot size: 600 Square Metres per plot
Price: 14 Million Naira per plot 
 
 Jewel Gardens sit just opposite the beach in Ibeju-Lekki. If you are looking to build a residential home where every day is a holiday, Jewel Gardens is perfect for you. 
Neighbourhood
 Eleko Bridge, Amen Estate, Lekki Trade Zone, Dangote Refinery, Ibeju-Lekki Coastal Road
Infrastructure
Perimeter Fencing, Electricity, Excellent Drainage System, Secure Environment, Security, Recreational Facility, Great Road Network
Title: Government Approved Excision
Price: 3.5 Million Naira – 600 Square Meters
Payment Plan: Up to 12 Months 
Westwood Lakes is a luxurious waterfront residence located off Monastery Road, Sangotedo, Lagos.
In Westwood Lakes, you get to fully experience the allure of the waterfront. Enjoy the peaceful combination of fresh water and woodsy scent and the soothing sound of lake water at Westwood Lakes Estate, Sangotedo. 
Title: Government Approved Certificate of Occupancy 
Amenities
24-hour CCTV surveillance, Lake Front view, Car charging dock, Fishing Dock Recreational Park, Pool, 24- hour power supply, Shopping Mart, Gym
Neighbourhood
Lekki Conservative Centre, Lufasi Nature Park, Novare Mall, Lakowe Lakes Golf Estate, VGC, Green Springs School
Price
300 Square Metres- 18 Million Naira
500 Square Metres – 30 Million Naira
1000 Square Metres – 60 Million Naira
Title: Certificate of Occupancy (C of O)
 The Lagoon Front Estate is set on the Northside of the Lekki Lagoon located along the Lekki-Epe expressway, directly opposite Alaro City, Epe. It is situated in a serene environment with a feel of nature and class, an affordable waterfront property that gives real value for money.

Residents and visitors will also enjoy a view of the beautiful Lagoon from the comfort of their homes. Land purchased could be used to build beautiful resorts, apartments/homes, and hotels. It may also be let out to expatriates employed at Alaro City, Refinery, Seaport, and the Lekki Free Zone.
Title: Government Allocation/Certificate of occupancy (C of O).
Price:
300 Square Metres: N9 Million Naira
500 Square Metres: 15 Million Naira
Initial deposit: N500 Thousand Naira
Payment plan: Up to 18 months
 
Proposed Facilities:
Good road network, Drainage system, Recreational areas, Perimeter Fencing, Electricity, Gated Community, Streetlights
Neighbourhood
Alaro City, Lekki-Epe International Airport, Lekki Free Trade Zone, Dangote Refinery, Eleganza Industrial City, PAN Atlantic University
Seated in the heart of Lagos metropolis, Avalon Foreshore Estate offers you an iconic living, with the best of luxuries to give you an unforgettable experience and fulfil your dream of a home. 
Neighbouhood
Yaba College of Technology, University of Lagos, Lagos University Teaching Hospital, Gbagada General Hospital, Third Mainland Bridge, Oworonsoki Jetty, Oworonsoki Youth sport Center
Title: Right of Occupancy (R of O)
Price
300 Square Metres: 60Million Naira 
500 Square Metres: 100Million Naira
1000 Square Metres: 200Million Naira
Initial Deposit: 15%
Payment Plan: 0-2 years (with ZERO interest)
How to own a waterfront property in Lagos
To get started, contact us at BESTATE Real Estate or call+2348090651344 to make your dream home come true!